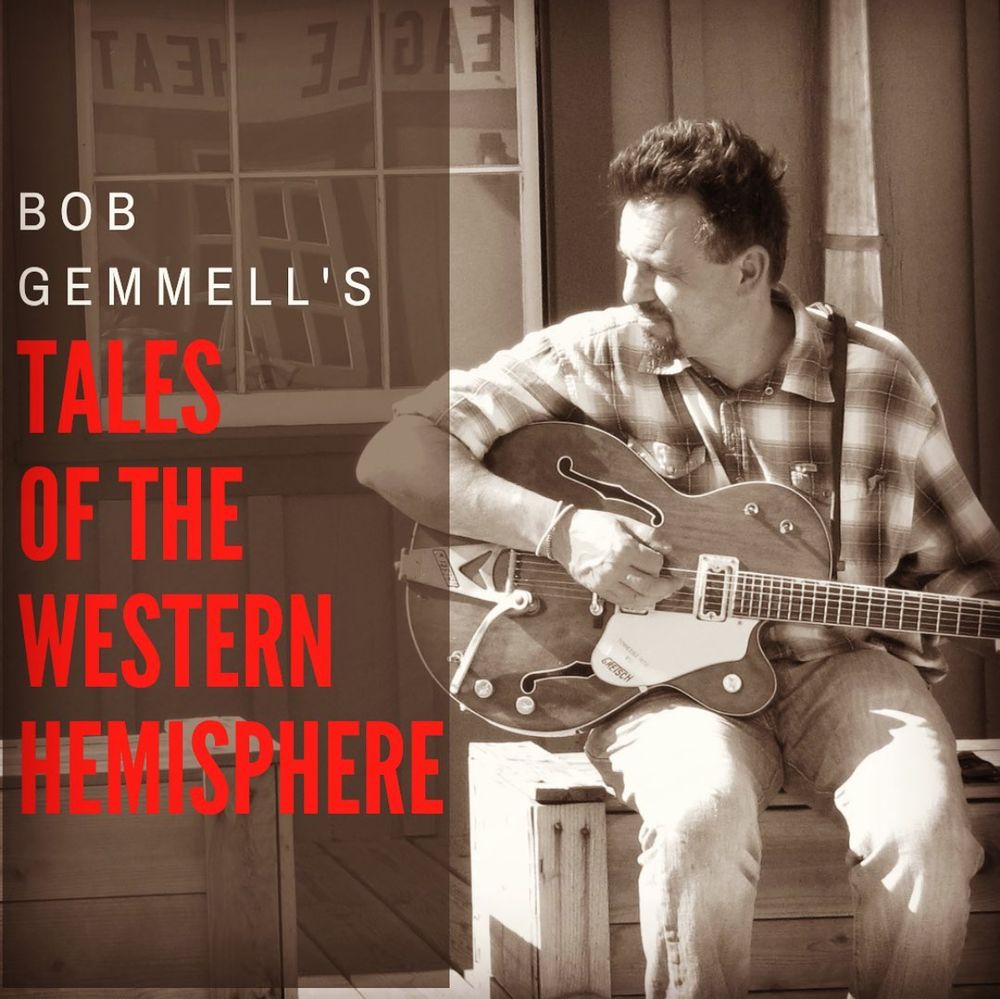 Volume 19, 2023 Summer Edition
Buenos Dias, buckaroos and buckarettes! 

I'm Bob - welcome to the bunker! You may know me from the band Big Medicine Head or daytime television.  This seasonal missive from the land of tumbleweeds and the lonesome six string guitar features news from the frontier, music and prose. Each issue will have a downloadable track and lyrics, along with the backstory of the song. For the duration of the pandemic and beyond we'll also feature live songs from the bunker. Call me crazy, but I'm giving all this away for free.
If you'd like to revisit past issues of Tales of the Western Hemisphere you can find them at bobgemmell.com. 
---
The Beat Farmers
When Big Medicine Head unleashed Telecaster twang and whiskey fueled punkabilly on Santa Cruz, Calfornia there was cause for concern among the gentle citizens of that quiet seaside burgh. Up to that point the musical output of Santa Cruz was energetic, but generally safe - not likely to invite the intervention of authorities. There were rainbow colored hippie bands playing caucasian reggae, synth-pop outfits in berets and asymmetric haircuts, and jam bands. Yet here we were, booking gigs in old guy bars and slumming with the unwashed. One would be more likely to see an ashtray, a neon beer sign and crime scene tape than a fern at the joints that we played.  So, when San Diego's legendary burlesque cowboys The Beat Farmers came to town, we were the logical choice to put on the bill.
The Beat Farmers are a rolling boxcar of mirth, with a finely crafted hymnal for the American West. Post-punk cowboy bands that carved out a niche in the west coast music scene in its heyday include Rank and File, The Long Ryders, and Reno's Boston Wranglers, but no one worked that seam like The Beat Farmers.
We used to print our own t-shirts back in the day; production was old school. I built a wooden silk screen frame and did it by hand. The designs were chaotic, with our name accompanied by random designs that looked like gun shots and splattered blood. One of the proudest moments of my musical career was being backstage and watching The Beat Farmers' beer swilling country evangelist drummer and singer Country Dick Montana slithering down the stairs on his back with a beer in one hand, wearing a Big Medicine Head t-shirt, sending primal howls to the rafters. 
I was standing with singer and guitarist Jerry Rainey at the bar one night and he said, "we're about to go onstage - listen to the first song. It's brand new".  It was then that I heard Hollywood Hills for the first time. 
Hollywood Hills is a perfect song. Joey Harris is a great singer, and with this song he reached the pinnacle - he has never sang better. Jerry Rainey's harmonica and their dueling guitars - and the achingly poetic lyrics of Paul Kaminski - create the anthem for any young person with a guitar, an amp and a desperate longing for something on the open road that beckons but can't be defined.
Another gem is Joey's Make it Last. If you're in San Diego and you are able to catch Joey playing an solo acoustic show, ask him to play it. He will oblige, and you will be changed. 
Why am I telling you all this? Well, the of issue of Tales of the Western Hemisphere that you are holding in your hands hit the streets in time to let you know that the Beat Farmers will wander into Santa Cruz again on Wednesday September 27th. Moe's Alley will be the scene of the crime. 
See you there.
---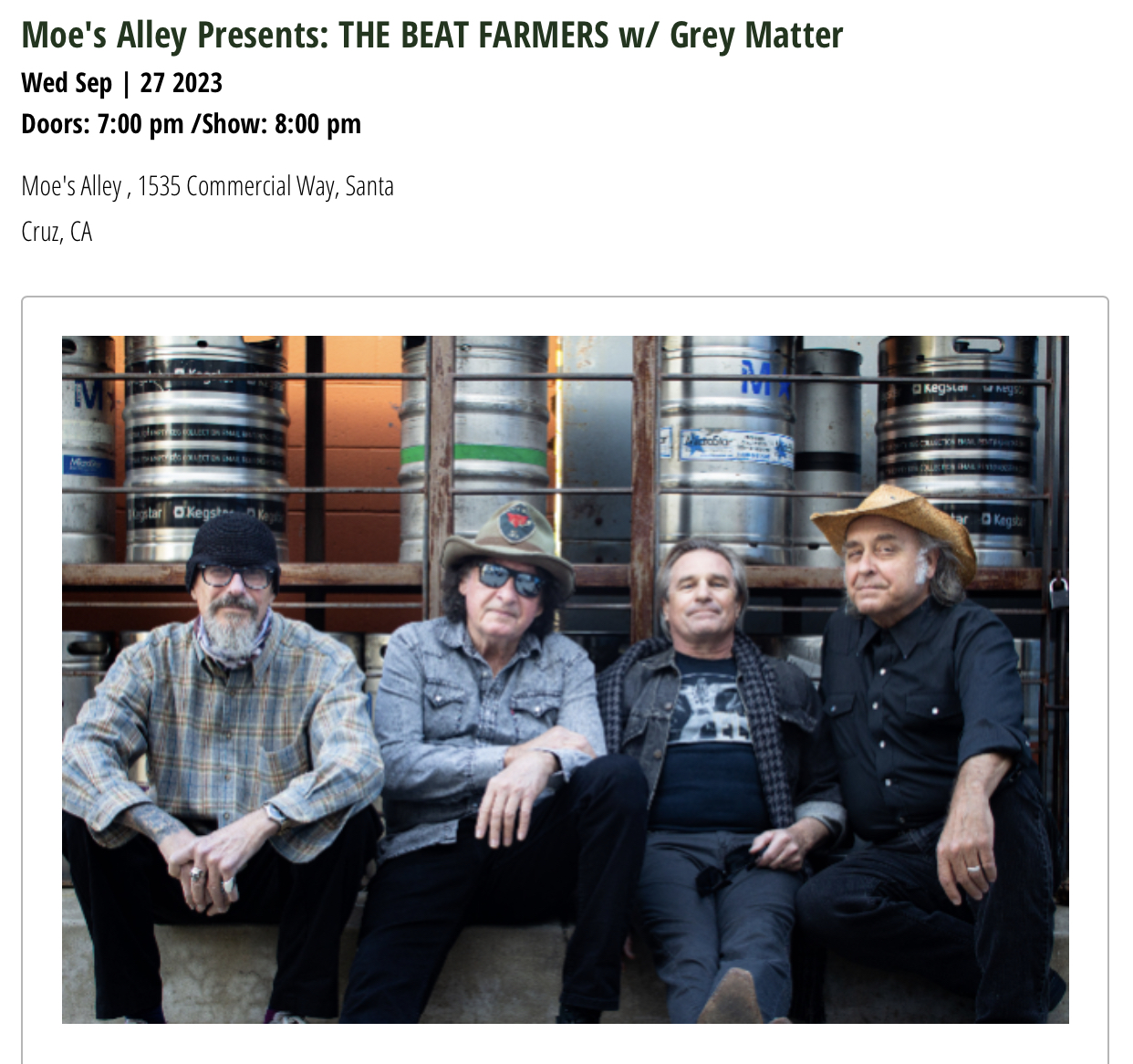 ---
B U L L E T I N
America, After the War is blowing up the Internet - the highest views and likes we've ever received on YouTube and Instagram. Check it out here.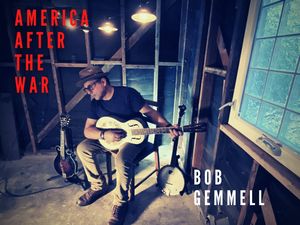 ---
S O N G  o f  t h e  M O N T H
Sit back and relax as we explore the Bob Gemmell and Big Medicine Head song catalog. The download instructions are at the bottom of this newsletter.
The Lonesome Desert Crawl
You'll hear a lot more about this later, but I'm writing a composite novel. This type of book is a collection of short stories which are self-contained tales, but connected through a common thread. It could be characters that repeat throughout the book, or common geography, or just a feel. Noteworthy examples of this genre include Winesburg, Ohio by Sherwood Anderson,  John Steinbeck's Pastures of Heaven and The Dubliners by James Joyce. Throw Ray Bradbury's Martian Chronicles in there, too. Why, you might ask, would I attempt such a thing?…
I was thinking about all the songs I've written for Big Medicine Head - as well as my solo stuff - and I realized two things: they are usually character driven and they are connected, in the sense that these stories stretch across the American West. In fact, one could posit that the American West is actually one of the characters. I wouldn't put up a fight about it.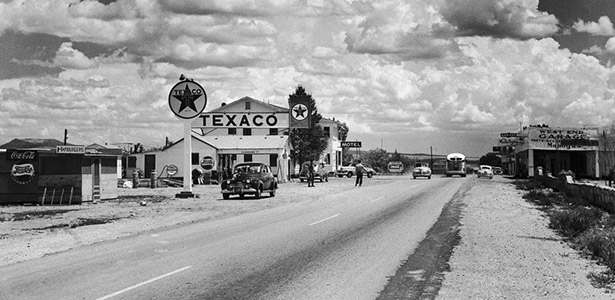 Each chapter of the book is based on a song from one of the albums, and an album of all the songs will be available as a companion to the book. The title of the album and the book? You guessed it: Tales of the Western Hemisphere.
Why am I telling you all this now? Because this issue's Song of the Month is The Lonesome Desert Crawl from the first Big Medicine Head album Rex Hotel. The title of the first chapter of the book? You guessed it: The Lonesome Desert Crawl.
To listen, follow the download instructions at the bottom of this message. Or click here.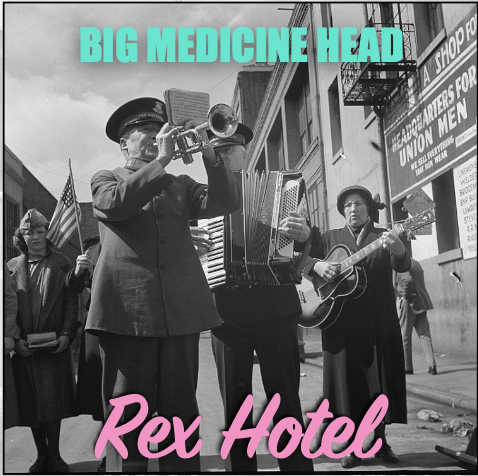 The Lonesome Desert Crawl
We're rolling to a new frontier
of pavement, warmth and wood veneer
low hum, telephone wires
high whine out on the plain
there's a high whine from an oncoming Dodge
there's a midnight ramble at the Starlight Lodge
No one's ever heard of your hometown
and going home just feels like coming down
Chemical fires out on 395
the sun's so bright that it's scaring the cattle
neon sparks in the Reno sky
the baby's crying in the back seat
give it a rattle
No one's ever heard of your hometown
and going home just feels like coming down
---
Seasonal Hobo Recipe
Beef Wellington
This is a dish that is offered at fine dining establishments, but don't feel like you can't enjoy the finer things in life just because you are down on your luck!
Ingredients:
Spam
Bologna
Mushrooms
White bread
Margarine 
Steps:
Wrap spam in bologna. Wrap both with mushrooms in white bread. This will lock in the flavor of the spam and prevent moisture from seeping out into the bread.
A good source of free margarine packets is the condiment tray at the hospital cafeteria. Pocket a few of these and spread liberally over the outside of the white bread.
Heat over engine manifold
Bon appetit!
---
S O N G  f r o m  t h e  B U N K E R
Each month we spin up a new song from the foxhole we find ourselves in. 
Cool Electric Sky
I don't have a good explanation for this song. It's sort of a social commentary protest song, or just a bunch of cool words tossed together. Cool Electric Sky first appeared on a cassette tape that was distributed at Big Medicine Head gigs. Later we did a proper recording for the Handsome Years album.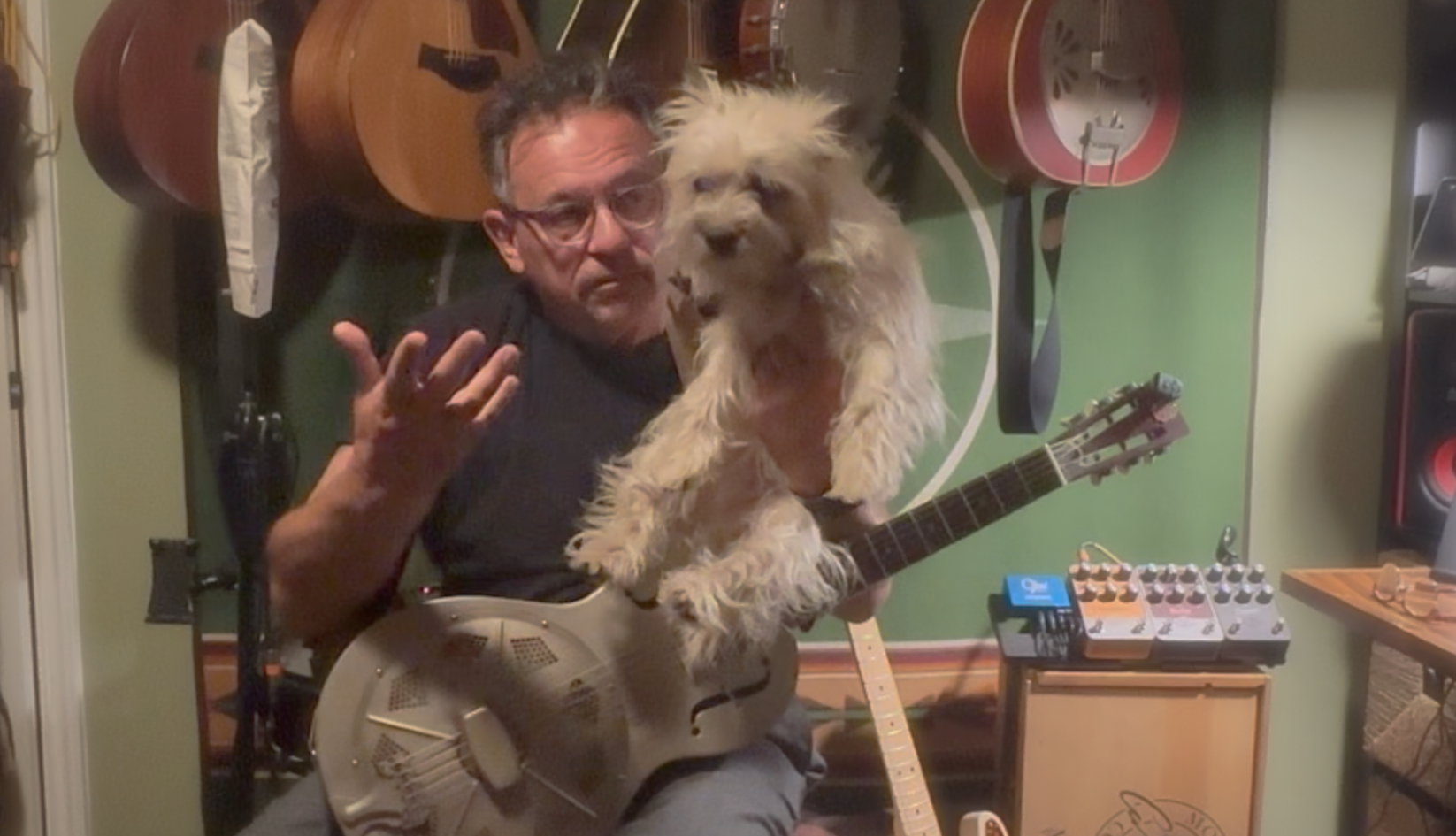 In this exclusive Songs From the Bunker version it's just me, my little dog Maisy Paisley and a resonator that Big Medicine Head guitarist JD Devros laid on me. I hope you dig it. Forgive my mistakes.
Listen here, or click the photo of Me and Rex, below.
Cool Electric Sky
The Prince of the City admires my guitar
but he says if I play that song again he's gonna break my arms
out on Love Street all is bliss until you open up your eyes
legislation flows like mother's milk under the cool electric sky
Well there's a rumour on the street
and there's a movement in the square
and the senator's wife doesn't like the way I wear my hair
The senator's house is built with Lincoln Logs
his babies all have values, his babies all have jobs
golden babies by the pool baking in the tax-free sun
yeah they're living life as if this life is something daddy won
well they're so foreign on the street
that the moonlight hurts their eyes
tanning oil is a joke under the cool electric sky
The Prince of the City is passing laws against the young
ever since the princess left he's been sleeping with his gun
he's singing every Sunday in the law and order choir
he'll visit every house on Love Street and set 'em all on fire
he'd hitch a ride with Jesus Christ
then let the air out of his tires
set him loose and hunt him down under the cool electric sky
No one likes the way the protest singer wears his hair
suburban wives are losing sleep
the protest singer doesn't care
what is he saying to our pure?
what is he saying to our young?
what will this golden nation look like 
when this this protest singer's done?
well there's a rumor in the street
read the paint before it dries
'cause they're shooting protest singers 
beneath the cool electric sky
 
---